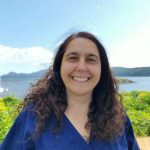 Personal Statement
I was born in Sofia, Bulgaria; lived in Bulgaria for 17 years; married; mother; Interests include hiking, cooking, music, travel; have visited England, France, Italy, Yugoslavia, Mexico, Dominican Republic, Argentina and Canada.
I completed an associate degree in Medical Ministry from Hartland Collage, VA in 1995 and worked at their Wellness and Health Center for 2 years as a therapist. I performed massages and hydrotherapy treatments under doctors' supervision. I assisted in Stop Smoking programs and cooking schools. Lectured on Stress Management, Nutrition, Home Health Remedies, Hydrotherapy, and Massage.
In 2008 I completed my Bachelors degree in Nursing from Excelsior College in Albany, NY. I worked in many different fields of nursing: home care nursing, school nursing and geriatric nursing. I love being a nurse. I believe that nurses are the most trusted healthcare professionals. They are with patients throughout the continuum of life. While working as a nurse, I am also a teacher, advocate, caregiver, critical thinker, and even innovator. For me, nursing is one of the most honorable profession, and nurses are the heart and soul of the healthcare system.
Send Message to listing owner